Description:
Innovative Design
Every detail of airFiber was designed and engineered by the Ubiquiti R&D Team. From the silicon chip up to the innovative split-antenna architecture, the Ubiquiti R&D Team created airFiber to deliver superior throughput with efficiency. airFiber was purpose-built to create a high performance backhaul.
The high-isolation, dual-antenna design is ideal for robust performance in the harshest RF noise environments.
Revolutionary Performance
Surpassing conventional wired backhauls, the airFiber®5 delivers real throughput of up to 1.2+ Gbps.
Long-Range Links: 100+ km
Designed to be a high-performance backhaul, the airFiber®5 performs at a range of up to 100+ km.
Low-Latency Carrier Backhaul
The airFiber®5 supports FDD (Frequency Division Duplexing) in full-duplex mode for < 1 ms latency, resulting in increased efficiency for carrier-class network backhauls.
5 GHz Unlicensed Band
The airFiber®5 operates in worldwide, license-free, 5 GHz frequencies. Users can deploy airFiber5 almost anywhere they choose (subject to local country regulations).
Plug and Play Deployment
Based on Ubiquiti's innovative and intuitive airOS®, the airFiber Configuration Interface enables quick deployment. With installation efficiency in mind, the mechanical design allows easy installation by one person. A two-person installation crew can effectively install and align an airFiber link. To fine-tune the alignment, the received signal levels can be conveniently accessed via any of these methods:
airFiber LED display
airFiber Configuration Interface
Audio tone feature
Designed for Freedom
airFiber operates in worldwide, license-free, 24 or 5 GHz frequencies. Anyone around the world can purchase and operate airFiber without any special permits, paperwork, or added licensing costs. Users are free to locate, deploy, and operate airFiber practically anywhere they choose (subject to local country regulations).
2 airFiber 5 are required for each link.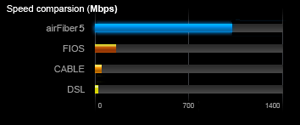 DOCUMENTS